A Passionate Advocate for Oklahoma Women

Sally Rae Merckle Mock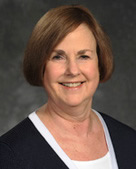 Sally's List was named for Sally Rae Merckle Mock, a trailblazer in her own right, who was dedicated to improving the lives of Oklahoma's women.
Sally earned her J.D. from the University of Oklahoma College of Law in 1973, graduating first in her class. Her academic honors include membership in Phi Beta Kappa, the Mortar Board, Order of the Coif, Phi Delta Phi, and the Board of Editors of the Oklahoma Law Review. Upon graduation from law school, Sally served as a law clerk to Judge William J. Holloway of the U.S. Court of Appeals for the Tenth Circuit. She also practiced at two Oklahoma City-based law firms before joining McAfee & Taft in 1988. She served as the first female member and as chairperson of the Oklahoma Board of Bar Examiners.
Sally was a strong advocate for the progressive issues we stand for today. She worked to advance women's rights, serving as a board member of Planned Parenthood of Central Oklahoma, where she was recognized as Volunteer of the Year in 2007. She was also a co-founder of the Oklahoma Committee to Promote Women's Health, a political action committee formed in 2008.
She was candid, honest, and never hesitated to express her opinion. After Sally passed away on February 14, 2009, Sara Jane Rose founded Sally's List, naming it in honor of her friend. Although she is no longer with us, Sally continues to inspire us.